15 Jahre seit "Artificial" mischen Frozen Plasma die Futurepop / Synthpop Szene immer noch ordentlich durch, sind Bestandteil vieler DJ Playlisten und auf jeder guten Electroparty zu hören.
15 Jahre in denen die Band zeigt es auch andere Wege in dem Genre gibt als Bombast Elektro, endlose Melodie Landschaften und überlange Tracks. Klare, einfache, tragende Melodien, die mit einem Text zusammen etwas ergeben worin man sich einfühlen kann, das berührt ohne zu erdrücken. Die Kunst eine Gefühlsmaschine fein abzustimmen, beherrscht nicht jeder.
Beeindruckend auch, neben allen Hits, die immer noch aktuell sind. Gibt es viele Titel die Underratet sind bis heute. Auch in der Klarheit entdeckt man noch neues wenn man sich Zeit nimmt. Das macht sie für mich so Einzigartig. Das Gesamtpaket ist einfach stimmig. Felix Stimme verleiht dem ganzen bis heute einen einmaligen Zugang zur Musik. Wer es nicht kennt sollte auch mal ein Auge auf seine Solo Alben werfen. Ganz klarer Kauftipp an der Stelle.
Corona beutelt auch die Jungs, Auftritte brechen weg, Absagen hier und da. Aber das heulen will ich gar nicht beginnen das trifft nämlich leider alle. Gezeiten ist ein guter Grund nach vorn zu blicken.
Eine Essenz aus 15 Jahren Studioarbeit, Touren, Festivals, Clubshows und das daraus resultierende Feedback der Fans und Veranstalter wie Locations. Die Möglichkeit an Titel wie Almond Flowers noch mal Hand an zu legen und aus einem Rohdiamant nen echten Edelstein zu machen. Das macht unheimlich Neugierig und ich bin sehr gespannt auf die Scheibe. Dazu eine Clubtour mit allerhand Gästen, quer durchs Land. Sie können, mit Recht, stolz auf die Jahre zurück blicken, mit Frozen Plasma haben sie ein Projekt zur Szenegröße geführt das National wie International enorme Bekanntheit hat.
Sie stecken viel Liebe in ihre Promoarbeit, machen vieles selbst, haben immer eine eigene Handschrift. Fannähe wird groß geschrieben, und niemals vergessen wer den Erfolg die Jahre getragen hat. Und so stehen heute Fans vor den Bühnen die man getrost als Langzeitpatienten bezeichnen kann und die den Virus Frozen Plasma in sich tragen. Symptome sind ganz klar Mitsingen auf Live Shows und Abtanzen auf dem Dancefloor.
Müde sind sie auch ganz gar nicht, und in 10 Jahren noch mal was schreiben zu können über 25 Jahre nach "Artificial"... Hat auch seinen Reiz und ich bin mir sicher, da kommt noch was in Zukunft.
Ich freu mich Mega auf die Clubshow in Leipzig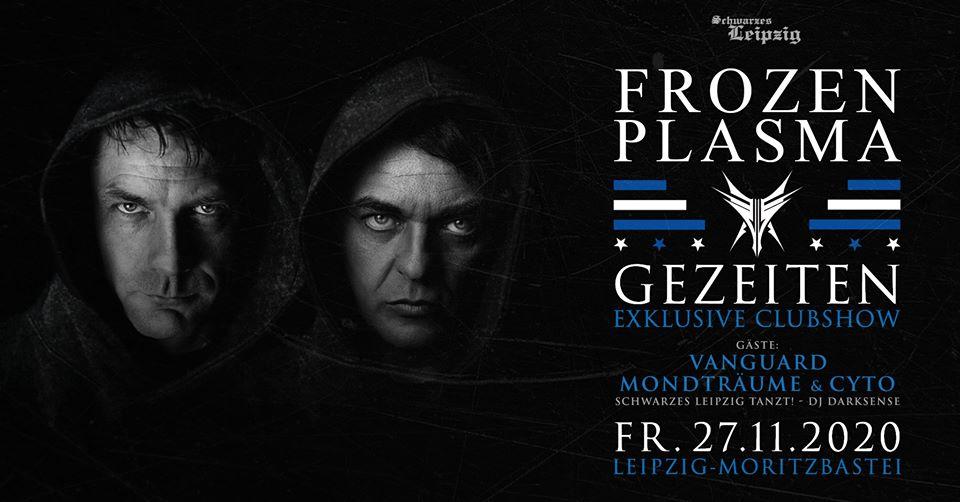 Also, gönnt euch mal Limitierte Fanware. Was erwatet euch?
New album: Gezeiten - Metal Box Front print - Anniversary Front Design

Debut album: Artificial - Metal Box Front print - Anniversary Front Design

Second album: Monumentum - Metal Box Front print - Anniversary Front Design

Third album: Dekadenz Metal Box Front print - Anniversary Front Design

15 yr anniversary Patch, 15 yr anniversary sticker, autograph cards with pictures from the period of the 4 releases and more...

Free digital download voucher (Bandcamp, by email as soon as the release is available. Maybe some days earlier 😉 )

After consultation via email: Invitation to the CLOSED 15 yr anniversary Facebook Group where you will get more exclusive band content, exclusive information, special offers, free media content.....
GEZEITEN - 4 METAL BOXES 15 YR ANNIVERSARY EDITION BUNDLE