Eine wohl sehr Weihnachtliche Tradition, ist es einen Adventskalender zu haben. Electric Tremor Dessau hat einen. Will den aber nicht an die geneigte Masse verkaufen oder raus rücken. Ungehobelt wie wir sind, würden wir sofort alle 24 Türen aufreißen und die Schokolade suchen, dann meckern das es kein Bier ist und die netten Kalendersprüche einfach übersehen.
Das Ding in den Papierkorb frachten und sich fragen, warum son Scheiß? Ne Kiste Bier und 4 Flaschen, Advent genug. Aber einen der Verantwortung trägt muss es ja geben, also ist da jemand, der mit eiserner Disziplin, jeden Tag nur ein einziges Türchen öffnet.
Und jeden Tag wird der Kalenderspruch fein aufgesagt und der Masse verkündet. Ho Ho Ho...
Und bis jetzt war nicht ein bescheuertes Weihnachtslied dabei. Aber dafür Bands, die auf dem FT 16 spielen. Das ist musikalisch eh um Welten besser, schürt aber die Angst das ich demnächst weihnachlichte Klänge bekannter EBM Formationen höre.
Egal, schauen wir mal was bis jetzt im Kalender war. Ich sitze dieses Jahr selbst wie ein kleines Kind vorm Monitor und warte auf mein täglich Türchen.
Als erstes Türchen: Keine Band, sondern das Volt Magazin als Gast des FT, was die genau planen bzw. präsentieren werden, werden sie uns selbst noch feierlich mitteilen.
Das zweite Türchen: Und da kommt echte Freude auf, Rainer von Sequenz-E macht noch mal seine Fans Glücklich. Anhalt EBM wie aus dem Lehrbuch und Live immer Garant für liebevollen Pogo. Vorfreude extrem. Wir alle wissen, eigentlich existiert die Band nicht mehr und Geld ist es eh nicht das Rainer auf die Bühne lockt, sondern die Aussicht mit den richtigen Fans, noch mal die Titel abzufeiern und für Intensive Momente zu sorgen.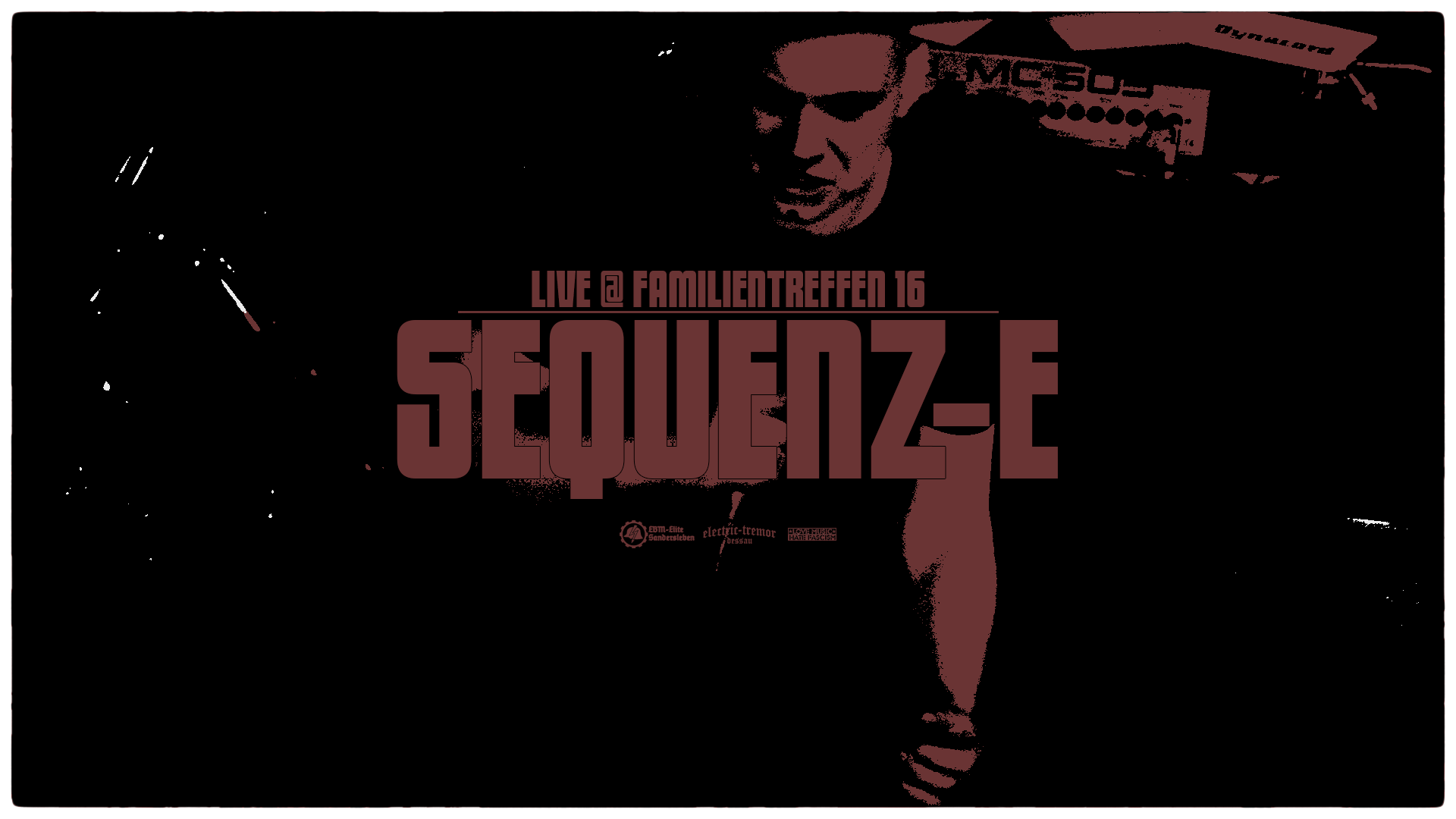 Das dritte Türchen: Fritten und EBM sind ja auf dem Treffen nichts ungewöhnliches, warum nicht beides verbinden und musikalisch untermauern. Euforic Existence heißt das Zauberwort. Seit dem Rise of the Belgian Empire sind sie immer wieder Gast auf Bühnen in DE und machen Druck. Das können sie.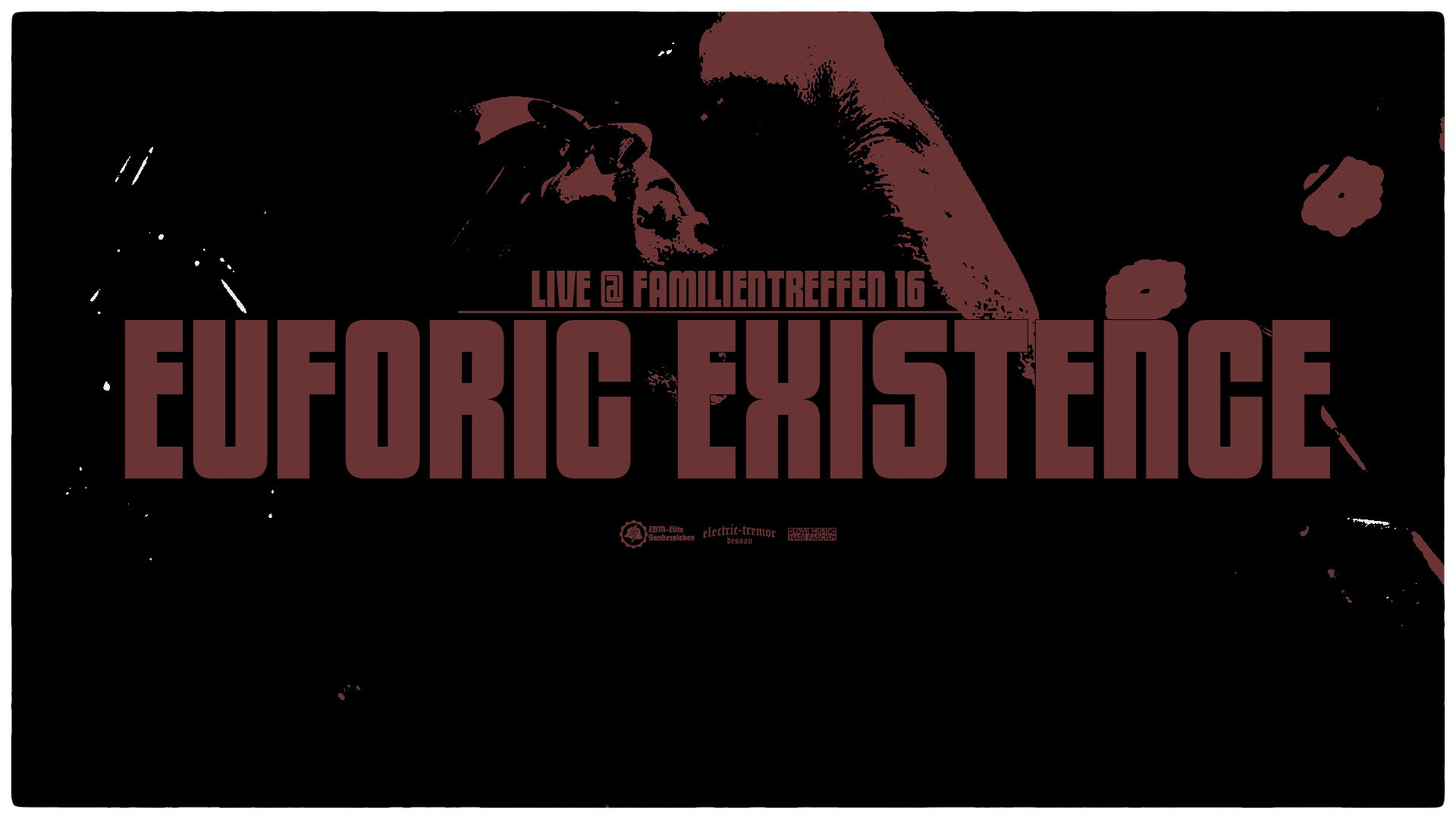 Das vierte Türchen:Aus Schweden kommt Celldöd, und wie in der Ankündigung dazu zu lesen ist, schon länger geplant diese mal auf die FT Bühne zu holen. Ein One Man Project aus schwedischen Landen mit krawalliger Stimme. Das klingt vielversprechend.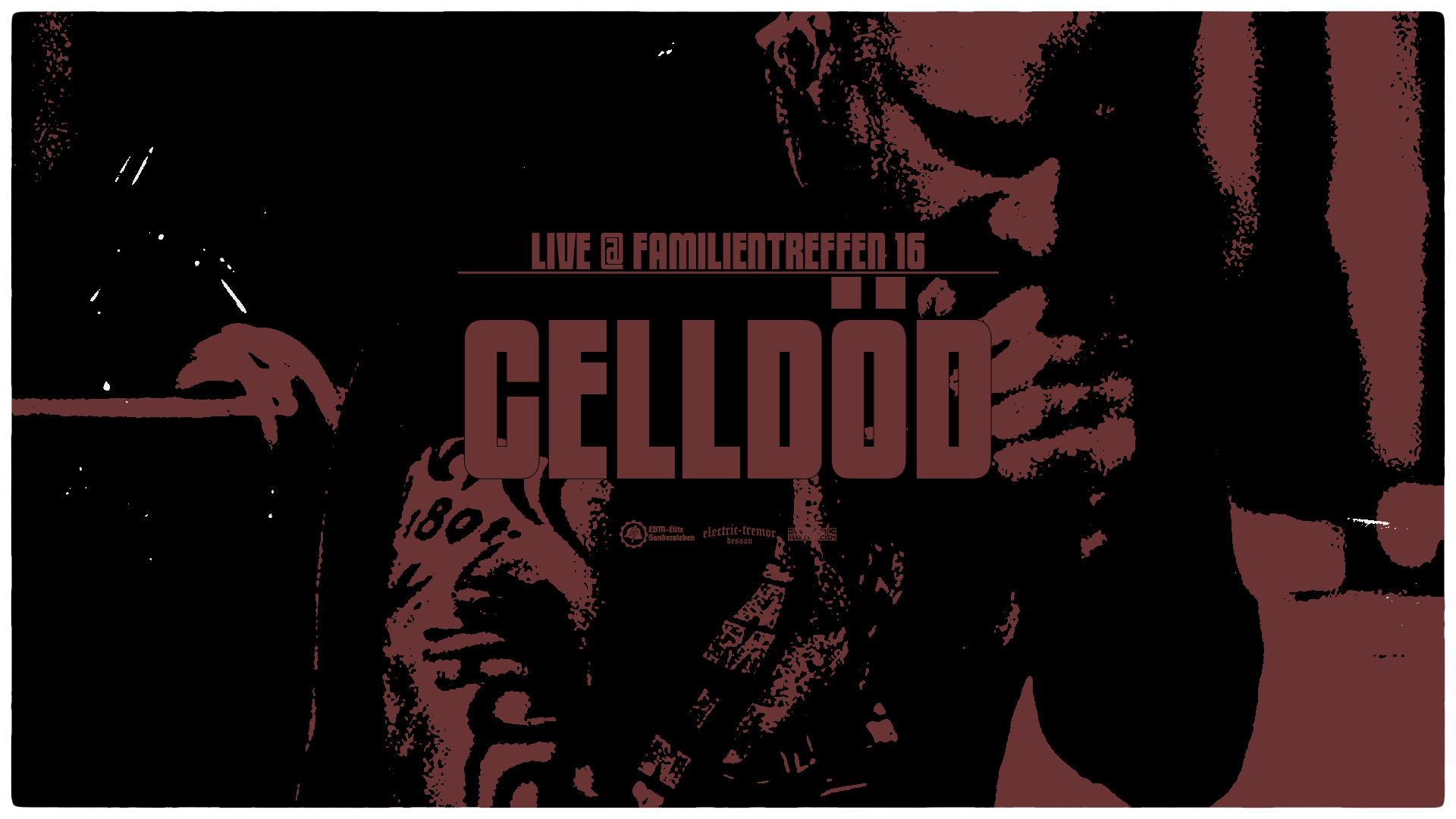 Das fünfte Türchen: The Incredible Festivalfuckers. Was soll ich euch dazu sagen... Äh... Ja... In einer natürlichen Umgebung, also einem Festivalgelände mit Quellen guten Bieres und genügend Musik findet man Exemplare dieser Gattung nur sehr selten. Es muss das richtige Festival sein. Das FT bietet schon aufgrund seiner Lage im Grünen, beste Bedingungen das sich diese Gattung auf Anhieb wohl fühlt. Aufällig an dieser Art ist das sie gern durch Getränke mit Strohhalm und eigenwilliger Kleidung auffällt. Kontaktaufnahmen enden nicht selten sturzbetrunken am Boden der Tatsachen, daher ist nur sehr wenig bekannt, was die auf der Bühne machen werden. Mein Tipp, nehmt euch 10 Bier und 12 kurze mit an die Tanzfläche, dann könnt ihr euch zu Boden trinken bis es vorüber ist... 😉 Sicher...ist sicher....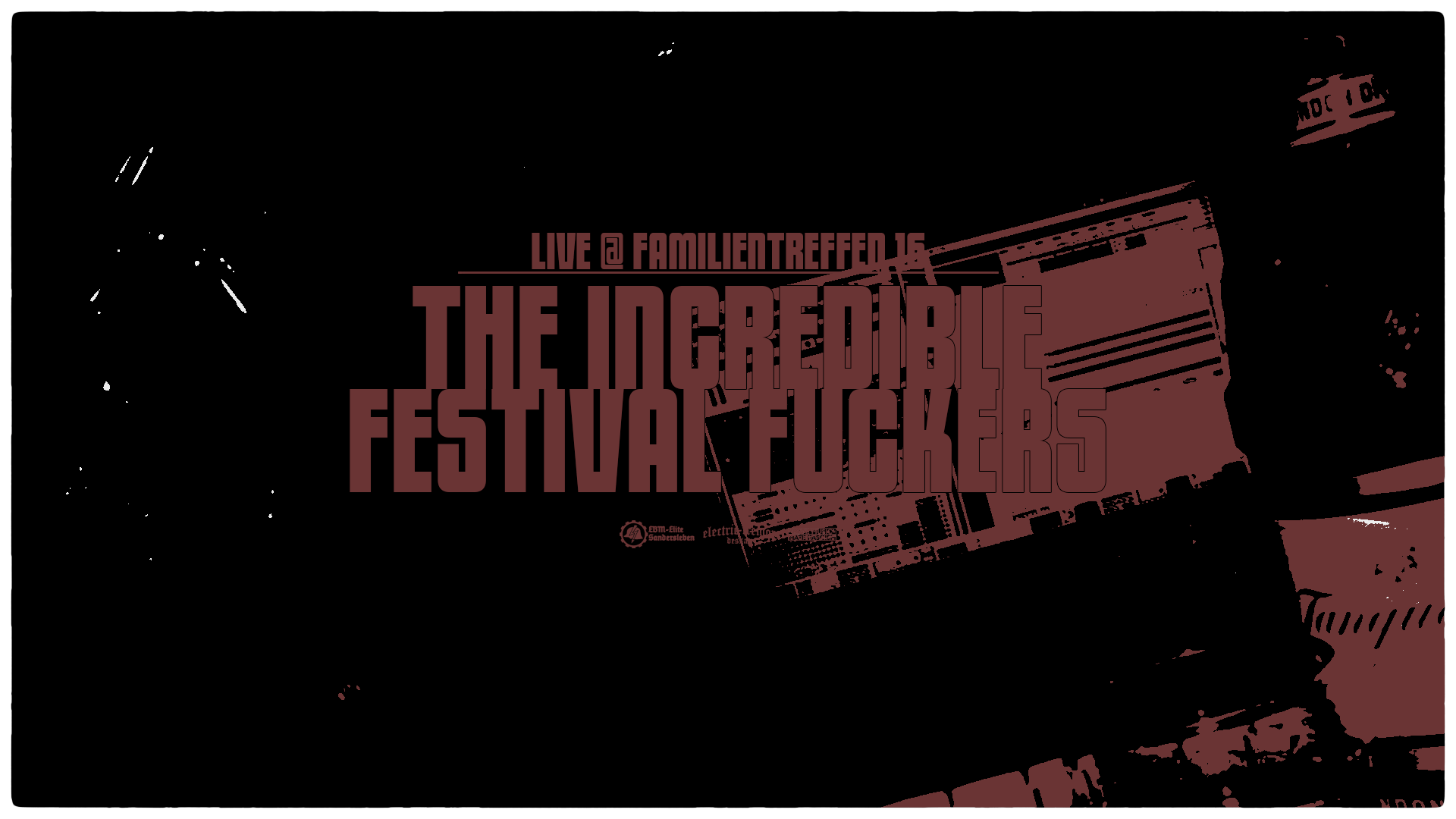 Das sechste Türchen: Das in den USA elektronisch was geht ist ja nichts neues mehr, um so schöner ist, das Elctric Tremor Dessau nen weiteren Vertreter aus diesen Landen finden konnte, der uns musikaliscch die Stiefel testet. Bin ich sehr gepannt drauf, denn nichts kann der heimische EBM Markt mehr vertragen als neue Klänge, neue Bands neue Sounds. Also hören wir an der Stelle mal übern Teich... Wird Geil!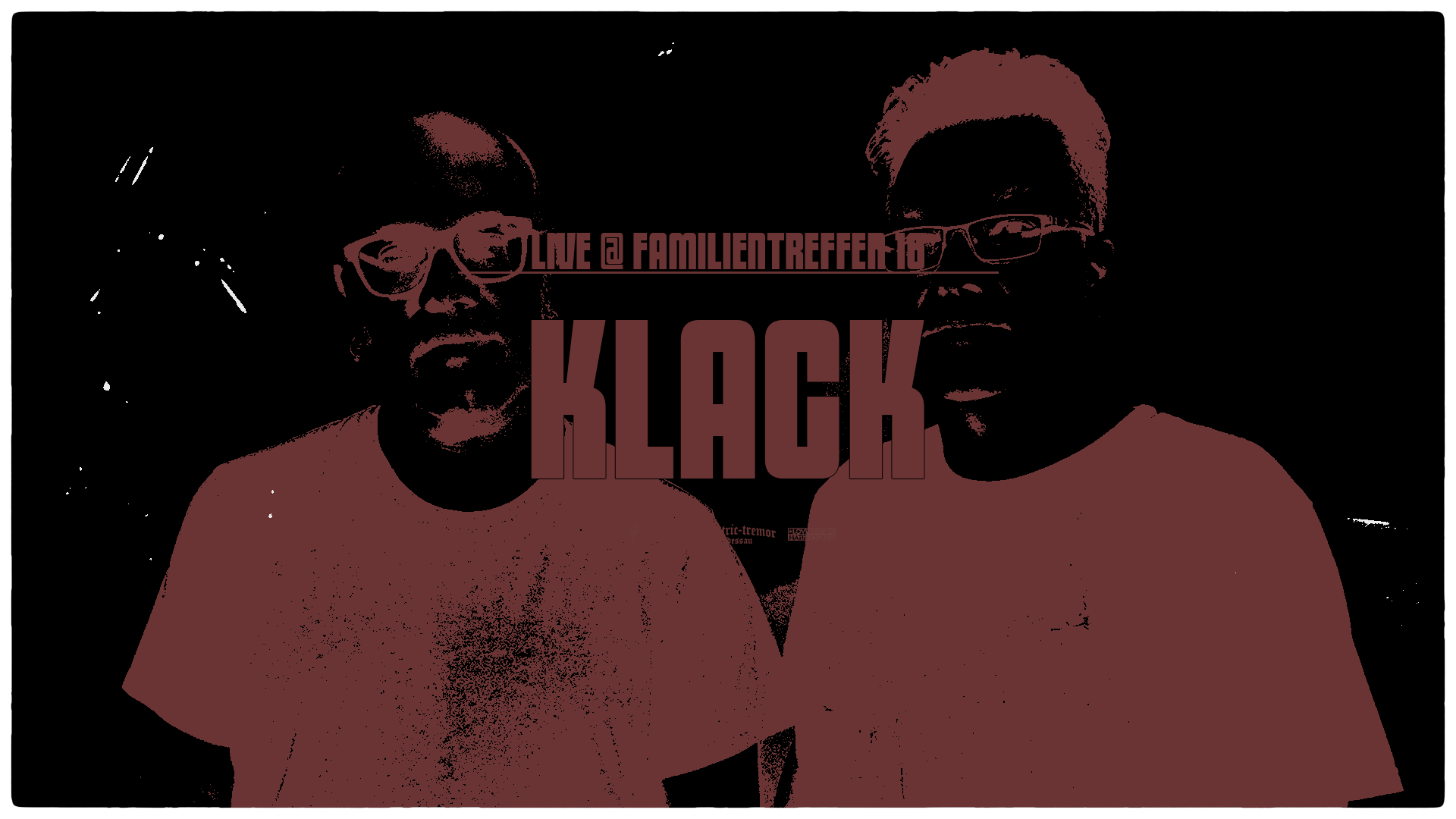 Das siebte Türchen: Das hat jemand bei Electric Tremor angerufen, Ey, neue Band, Schweden, Gut, hör mal kurz... Und schon sind sie gebucht. Also vertrauen wir mal ganz auf das Fachwissen des Veranstalters. Aus Schweden kommt selten schlechtes, ok von dem stinkendem Gammelfisch in Dosen mal abgesehen. Tukt heißt die Formation. Auch hier...Spannung....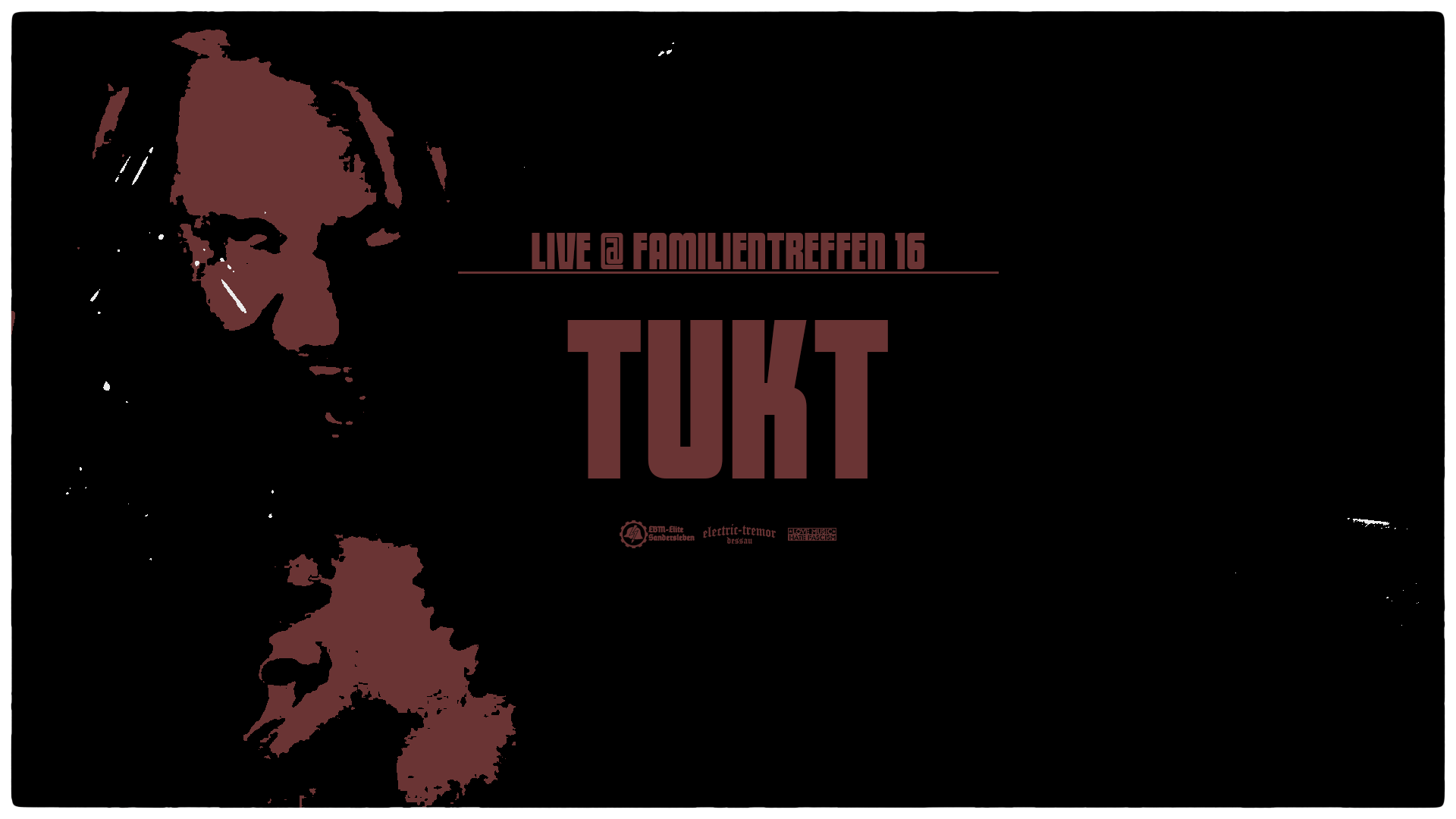 Das achte Türchen: Hat es in sich! Darauf freue ich mich persönlich am meisten, Stechschritt live! Was mich mit dieser Band verbindet ist allein schon der Umstand das ich alle Projekte die Peter und Christoph haben, von beginn an mit verfolgen konnte. Ich hab die ersten ungemasterten Stechschritt Demos gehört, gefeiert und ihm allen Support geboten den ich konnte. Wer Peter kennt weiß, wenn er seinen Kopf einmal an ner Sache fest genagelt hat, weil es ihn kickt. Dann macht er so lange bis was hinten rum kommt das das seinem Anspruch entspricht. Hierbei egal ob Musik, oder wie derzeit als Zeichner und Tatoo Artist. Keine halben Sachen, nichts kann ihn mehr aufregen wie Halbherzigkeit. Mit Stechritt steht auf der Bühne was Bands wie Elite!, Sequenz-E mal los getreten haben. Rauer Anhalt EBM, der vor keinem Thema halt macht. Und ich freu mich Mega auf die Gelegenheit mit ihm mal wieder n paar Worte zu wechseln, auf n Bier oder zwei, und nen Auftritt der mich noch genau so begeistern wird wie sein erster in Dessau.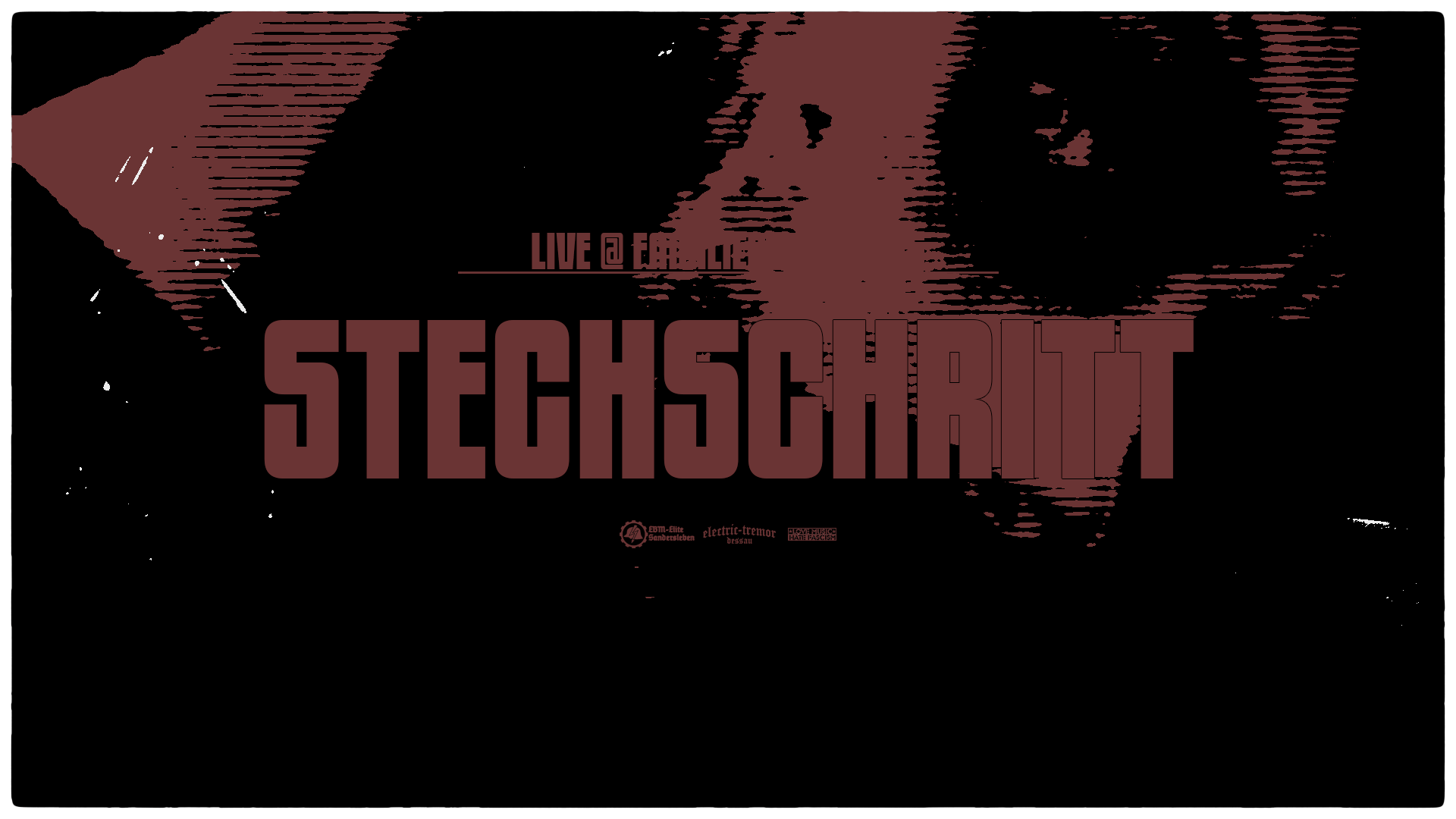 Das neunte Türchen: Ist Melanie´s "De Muddi" Biertauschbörse. Eine Schnapsidee die zu Bier wurde, oder so. Wasser zu Wein wandelnm ist was für Gläubige. Bier nach Sandersleben schleppen was für echte Fanatiker. Gebräue aus aller Herren Läbder werden getauscht, verköstigt, bewertet und der Sammlung hinzugefügt.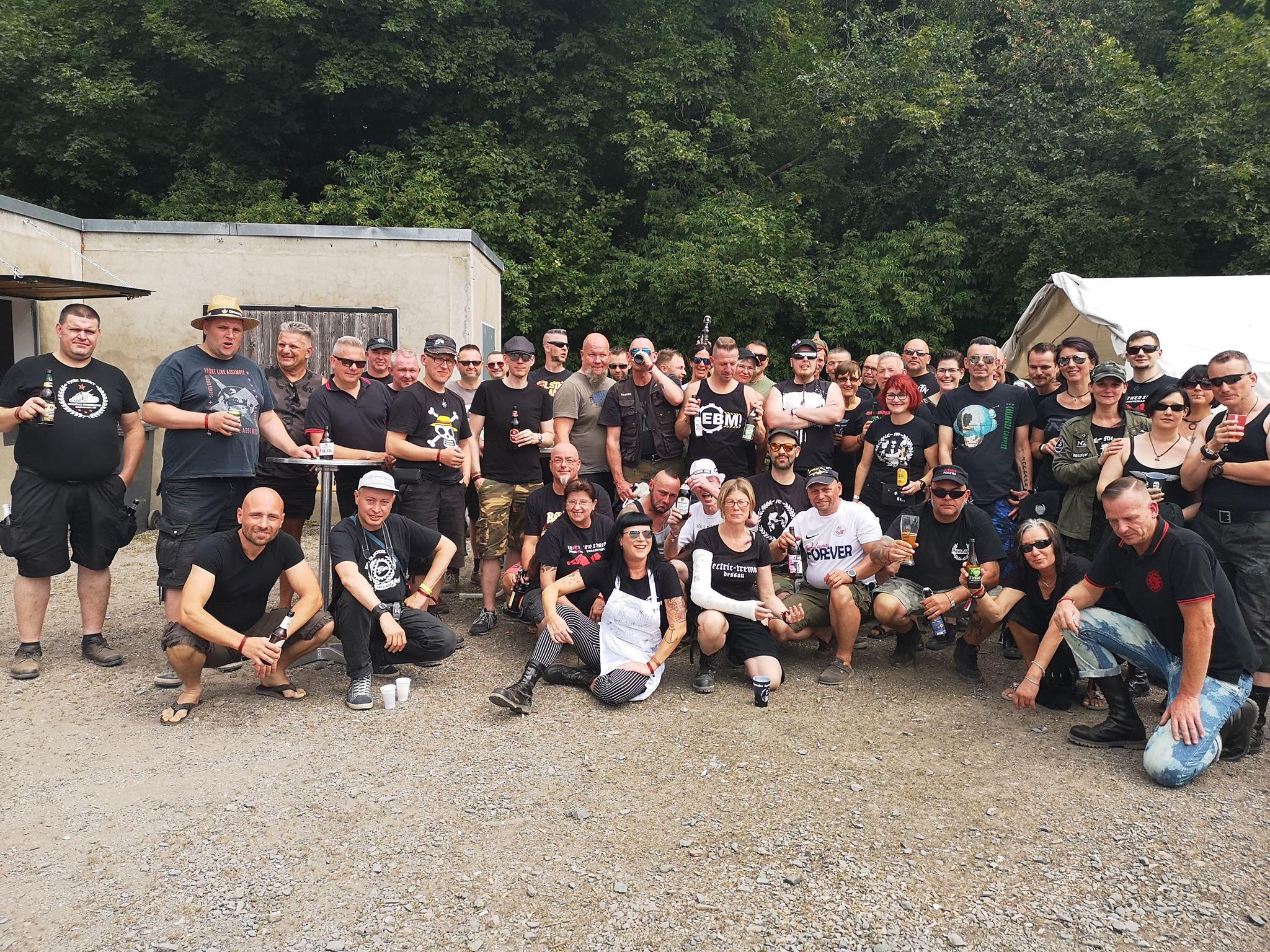 Das zehnte Türchen: Mindestens genau so oft Live auf der Bühne wie Aircrash Bureau angekündigt versetzt diese Band die Massen immer wieder in erstaunen, sorgen für Jubel, Extasen und Akusstische Orgasmen. Ganz klarer Fall, die müssen auf die Bühne!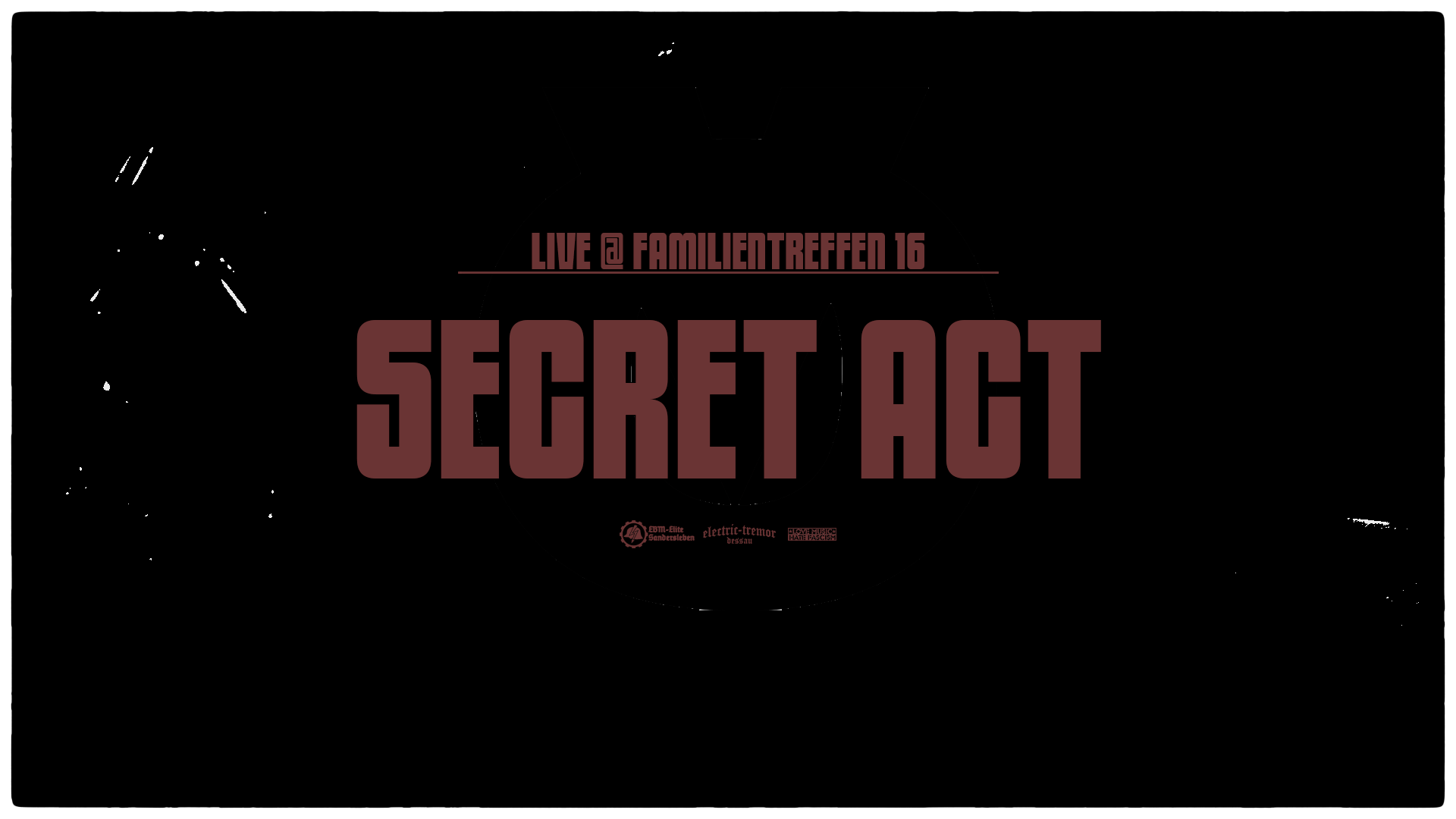 Das waren alle, die bis jetzt veröffentlicht wurden. Und mit diesen 10 ist schon mal genug Anreiz, Vorfreude und Spannung geschaffen auf das Familientreffen 16.